O.T. (Ägypten)
Fotohof, Salzburg
Installation
(1000 printed booklets, cardboard boxes, shelf)
In Searching the net for utopie geht Paul Divjak möglichen virtuellen Manifestationen des – auch im Internet inflationär gebrauchten – Begriffs "Utopie" nach. Was er in seiner Arbeit zusammengestellt hat, spiegelt Ausschnitte aktueller gesellschaftspolitischer Diskussionen zum Thema wider, zugänglich gemacht als vielfach duplizierter Reader.
"Utopien heute? Kunst zwischen Vision und Alltag"
Wilhelm-Hack Museum, Ludwigshafen, 11.11.2001-24.2002
Curated by: Theresa Kiefer
Participating Artists: Sonja Braas / Christina Kubisch / Wolfgang Laib Mariele Neudecker / Kazuo Katase / Jake & Dinos Chapman / Rosemarie Trockel / Bjørn Melhus / Lim Young Sun / Chris Cunningham / Bigert & Bergström / N 55 / Atelier van Lieshout Allan Wexler / Tobias Rehberger/ Kreissl & Kerber / Thomas Wrede / Paul Divjak / ipfo / Michael Elsen / Vincent Prud'homme / Nicolas Moulin / Zaha Hadid
Katalog: Gassen, Richard W., Kiefer, Theresia (Hg.): "Utopien heute? : Kunst zwischen Vision und Alltag". Heidelberg : Ed. Braus. 2001.ISBN: 389904004x (EAN: 9783899040043 / 978-3899040043)
Eine Begrenzung, dazu angelegt Grenzen aufzulösen: Paul Divjaks Videoinstallation Journey besteht aus einem von drei Flächen umschlossenen Raum, zu dem man über eine sich drehende Schleuse Zutritt erhält. Auf jede der drei Flächen wird dasselbe bewegte Videobild projiziert, aus jeder der drei Ecken ertönt der Stereo-Sound von Hans Platzgumers gleichnamiger Komposition. Hier wurde, im Unterschied zu Benjamins Panorama, kein Ort des Sehens installiert, obwohl ebenso gleichviel gilt, bei welchem Bild man die Runde anfängt. Schon eher handelt es sich um einen Raum, der die Betrachter umschließt, sie in Ausführende der Installation verwandelt. — mehr —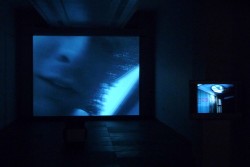 Installation
(Film 16mm/DVD, 16 minutes, looped)
In his video Sonnenland, Paul Divjak addresses a sensitive subject. He filmed handicapped children, showing the viewer the fine line between documentation and voyeurism via a sociopolitically controversial subject. Rather than violating privacy, his camera captured the direct, playful, and authentic interaction between those involved in the video shoot.
"Videorama – Absurdity, Subversion, and Form in Austrian Video Art"
Austrian Cultural Forum, New York
Participating Artists: Renate Bertlmann, BitteBitteJaJa, Paul Divjak, Thomas Draschan, Tomas Eller, Nicolas Jasmin, Anna Jermolaewa, Leopold Kessler, Stephan Lugbauer, Rudolf Polanszky, Gerwald Rockenschaub, Hubert Sielecki, Erwin Wurm
Curators: Gerald Matt, Andreas Stadler, and Angela Stief — mehr —