Diskobett
Museum Essl, Klosterneuburg

"We all come from somewhere, we all represent something, we all make and re-make ourselves daily through the acts of speech and appearance …" Irit Rogoff
Im Rahmen der performativen Installation "Paul´s Boutique – Dress To Exhibit" haben die BesucherInnen der Prager Quadriennale die Möglichkeit, sich Kleidung auszuborgen, und in neuer Rolle die anderen Pavillons (u.a von Ilya Kabakov, Markus Schinwald) zu erkunden. Ausgewählt werden kann aus einer breiten, exklusiven Palette möglicher "Kostüme". Das Angebot reicht von Haute Couture, über zB. das Outfit eines Security-Angestellten bis hin zum Dirndl, zur Burka und zum Strahlenschutzanzug. Die AusstellungsbesucherInnen werden zu AkteurInnen und verändern mit ihrem Auftreten und der neuen Haltung auch die Wahrnehmung und Kontexte der anderen künstlerischen Beiträge auf dem Areal. Eine Thematisierung gesellschaftlicher (Dress-) Codes am Schnittpunkt von Kunst und Alltag. — mehr —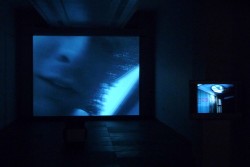 Installation
(Film 16mm/DVD, 16 minutes, looped)
In his video Sonnenland, Paul Divjak addresses a sensitive subject. He filmed handicapped children, showing the viewer the fine line between documentation and voyeurism via a sociopolitically controversial subject. Rather than violating privacy, his camera captured the direct, playful, and authentic interaction between those involved in the video shoot.
"Videorama – Absurdity, Subversion, and Form in Austrian Video Art"
Austrian Cultural Forum, New York
Participating Artists: Renate Bertlmann, BitteBitteJaJa, Paul Divjak, Thomas Draschan, Tomas Eller, Nicolas Jasmin, Anna Jermolaewa, Leopold Kessler, Stephan Lugbauer, Rudolf Polanszky, Gerwald Rockenschaub, Hubert Sielecki, Erwin Wurm
Curators: Gerald Matt, Andreas Stadler, and Angela Stief — mehr —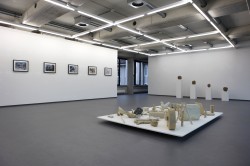 Das "Jahrhunderthochwasser" im Frühsommer 2013 hat ganze Landstriche verwüstet, Häuser zerstört, Menschen obdachlos gemacht. Die Flut hat sichtbare Spuren der Zerstörung hinterlassen. Auch Divjaks Sommeratelier an der Donau, liegt im Überschwemmungsgebiet, im Auland. Zwischen Chaos und Manie hat der Künstler wiederholt Müllberge bestiegen und ausgewählte Fundstücke im Atelier zusammengetragen. Aus Angeschwemmtem und Weggeworfenem entstanden in monatelanger Arbeit dichte, ebenso facettenreiche wie unterschiedlich lesbare Werkserien.
In der Galerie Eboran erstmals zu sehen sind neben den teils skurrilen "gebuchten Objekten", in die sich Cut-Ups, oder treffender: Schnipsel der Literaturgeschichte einschreiben, somnambule, schwarzweiße Fotoarbeiten ("Moment Scale"), bei denen sich Erinnerungsspuren in der Abstraktion verlieren sowie aus alten Jute-Kaffeesäcken hergestellte Skulpturen ("Schnurkopfstudien – Jute als Plastik").
Ausstellungsdauer: 20.11.2013- 31.01.2014
Galerie Eboran