Achten Sie auf Ihr Image
Public Space, Vienna
Intervention
(In Kooperation mit DER STANDARD)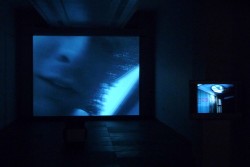 Installation
(Film 16mm/DVD, 16 minutes, looped)
In his video Sonnenland, Paul Divjak addresses a sensitive subject. He filmed handicapped children, showing the viewer the fine line between documentation and voyeurism via a sociopolitically controversial subject. Rather than violating privacy, his camera captured the direct, playful, and authentic interaction between those involved in the video shoot.
"Videorama – Absurdity, Subversion, and Form in Austrian Video Art"
Austrian Cultural Forum, New York
Participating Artists: Renate Bertlmann, BitteBitteJaJa, Paul Divjak, Thomas Draschan, Tomas Eller, Nicolas Jasmin, Anna Jermolaewa, Leopold Kessler, Stephan Lugbauer, Rudolf Polanszky, Gerwald Rockenschaub, Hubert Sielecki, Erwin Wurm
Curators: Gerald Matt, Andreas Stadler, and Angela Stief — mehr —
JANUARY 26 – FEBRUARY 25 2017
THE ART CENTRE, SILPAKORN UNIVERSITY, BANGKOK
365 Days : LIFE MUSE
Model study for Nongpo community's foreign labours
This interdisciplinary and collaborative art project by Baan Noorg Collaborative welcomes the participation of 19 artists and researchers with its main programs including a residency program in the Nongpo community, an artist talk program and an exhibition and forum at the Art Centre of Silpakorn University, Bangkok.
Artists: Katherine Nunez, artist represented by 98B COLLABoratory, Philippines / Helmi Hardian, Tuwis Yasinta, artists represented by WAFT LAB, Indonesia / Chen Chia Jen, artist represented by Open Contemporary Art Center, Taiwan / Ma Ei, Myanmar / Okui Lala, Malaysia / Masaru Iwai, Japan / Varsha Nair, India / Wu Chi Yu, Taiwan / Henry Tan, Thailand / Preenun Nana, Thailand / Suraporn Lertwongpaitoon, Thailand / Jutamas Buranajade & Piti Amraranga, Thailand / Thatchatham Silsupan, Thailand / Korakrit Arunanondchai, Thailand / Rachan Klomklieng, Thailand
Researchers: Sebastien Tayac, France / Jeanette Mueller and Paul Divjak, Austria
Artistic researchers: Alfred Banze, Germany / Maung Day, Myanmar
Contributing writer: Rikey Tenn
Curators : jiandyin (Jiradej and Pornpilai Meemalai)
Assistant Curator : Suphitchaya Khunchamni
Project Directors : jiandyin (Jiradej and Pornpilai Meemalai)
Project Manager : Suphitchaya Khunchamni
Project Assistant managers : Thanet Subsart, Kitiwan Saneewong