Achten Sie auf Ihr Image
Public Space, Vienna
Intervention
(In Kooperation mit DER STANDARD)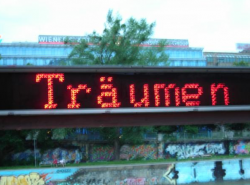 Literatur/Installation – Lichtzeile, Curated by Christine Böhler – 1998
"it is what it is…"
james brown, E.S.P.
ein festmahl für die sinne… eine symphonie – für die sinne – erotischer bilder von gewagter schönheit und direktheit… sie landen fast den großen coup, werden beinahe von ihren frauen geliebt und sind freunde auf zeit… hinter dem vorhang des schönen scheins… ein rabenschwarzer adrenalinstoß… ein `clockwork orange´ der 90er jahre… die geschichte einer familie, die zu geschichte, zur geschichte von uns, von uns allen, wird… von berückender schönheit, phantastischer musik und eindringlicher kraft… sie tauchen, tauchen sie ein in eine unbekannte welt, tauchen sie… eine ode an die schöpfung mit den filmischen mitteln des dritten jahrtausends… spannend wie ein krimi und bewegend wie eine liebesgeschichte… nichts ist endgültig. auch nicht der tod… ein meisterwerk… atemberaubend… so menschlich und von reinem gefühl… außergewöhnlich… ein meisterwerk… die entdeckung der lebensfreude… zum lachen und zum weinen. die geschichte einer wunderbaren freundschaft… von hinreissender unmittelbarkeit… hinreißend und spannend, witzig und anrührend… spannend, hinreißend, witzig, spannend, witzig und anrührend:… das leben im pariser viertel bastille schlägt jede seifenoper… voll zauberhafter spontaneität und hinreißender vitalität… you`ll be surprised… — mehr —
THE TRANSITION SHOW – VON MÜLLER & DIVJAK
PSG / H.R.H. Princess Sirinthorn Art Gallery, Nakhon Pathom, Opening: March 28th 2016
Tomorrows unitary world is in need of transcendence and liberation from a thinking in opposites. (George Czuczka)
The world is full of anxiety and of nihilistic emptiness. It is in spiritual and social crisis. What can we do about it? … — mehr —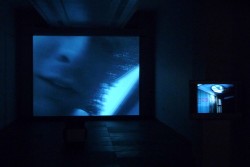 Installation
(Film 16mm/DVD, 16 minutes, looped)
In his video Sonnenland, Paul Divjak addresses a sensitive subject. He filmed handicapped children, showing the viewer the fine line between documentation and voyeurism via a sociopolitically controversial subject. Rather than violating privacy, his camera captured the direct, playful, and authentic interaction between those involved in the video shoot.
"Videorama – Absurdity, Subversion, and Form in Austrian Video Art"
Austrian Cultural Forum, New York
Participating Artists: Renate Bertlmann, BitteBitteJaJa, Paul Divjak, Thomas Draschan, Tomas Eller, Nicolas Jasmin, Anna Jermolaewa, Leopold Kessler, Stephan Lugbauer, Rudolf Polanszky, Gerwald Rockenschaub, Hubert Sielecki, Erwin Wurm
Curators: Gerald Matt, Andreas Stadler, and Angela Stief — mehr —