Introducing: TJ Tape Head
ELEKTROKONFERENZ 1.0 @ Akademie der Bildenden Künste, München – 2003
Oblaat, R.Sonntag, Sebastian Giussiani, H-Krejci-M,
Wörle, Paul Divjak, V.Rommel [CD, Video]
ELEKTROKONFERENZ 6.0 @Add On, Wien – 2005
Institut für Leistungsabfall und Kontemplation
h-krejci-m, Clemens Krejci, Sebastian Giussani und Paul Divjak
Die Elektrokonferenz ist Plattform für die Weiterentwicklung des Computerjammings. Es werden zwischen vier und neun Musiker eingeladen, deren experimenteller, unkonventioneller Umgang mit den Instrumenten im Vordergrund steht. Die Elektrokonferenz ist Konzert und Versuchsaufbau in einem. Musikalischer improvisierter Eigensinn, sowie alle Möglichkeiten des Scheiterns und der Fehler stehen im Vordergrund.
Welcome to the wonderful world of home-taped music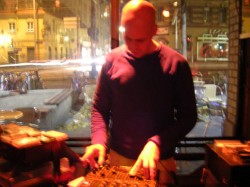 Locations: Schauspielhaus Wien, S-Bar | rhiz – bar modern, Wien (2004-2010)
Welcome to the wonderful world of home-taped music! – Nichts hier jetzt als vier Doppeldecks und Kompaktkassetten aus mehreren Jahrzehnten!
Gäste AM KASSETTENDECK: Bernhard Fleischmann, DJ Tapiresque, Michael Lachsteiner (blankTON), Walser, Peter Hörmanseder (Maschek), Boris Jordan (FM4), dd kern, Erdem Tunakan (cheap), Robert Buchschwenter, Christof Cargnelli, Fritz Ostermayer (FM4, Im Sumpf), Umberto gollini (cheap), Constantin Peyfuss (b.low), Sebastian Schlachter-Delgado (La Boum de Luxe/cheap), 3volt (cheap), Super Brummer (Iglu) u.a.
Präsentation der Kassetten-Sammlungen (Schenkungen/Eisen- und Chromdioxid-Leihgabe) von: u.a. Franzobel, Axel Schanda, Barbara Kaspar, Michael Dürr, Stefan Parnreiter (aRtonal), Jeroen Siebens (fritspecial), Claus Seibt